Free Shipping

Free shipping: included on all orders 

Delivery: Most orders ship within 1-2 business days, however occasional delays may occur (particularly with Covid supply chain disruptions). Once shipped, typically arrives within 3-5 business days (US only).
Share
View full details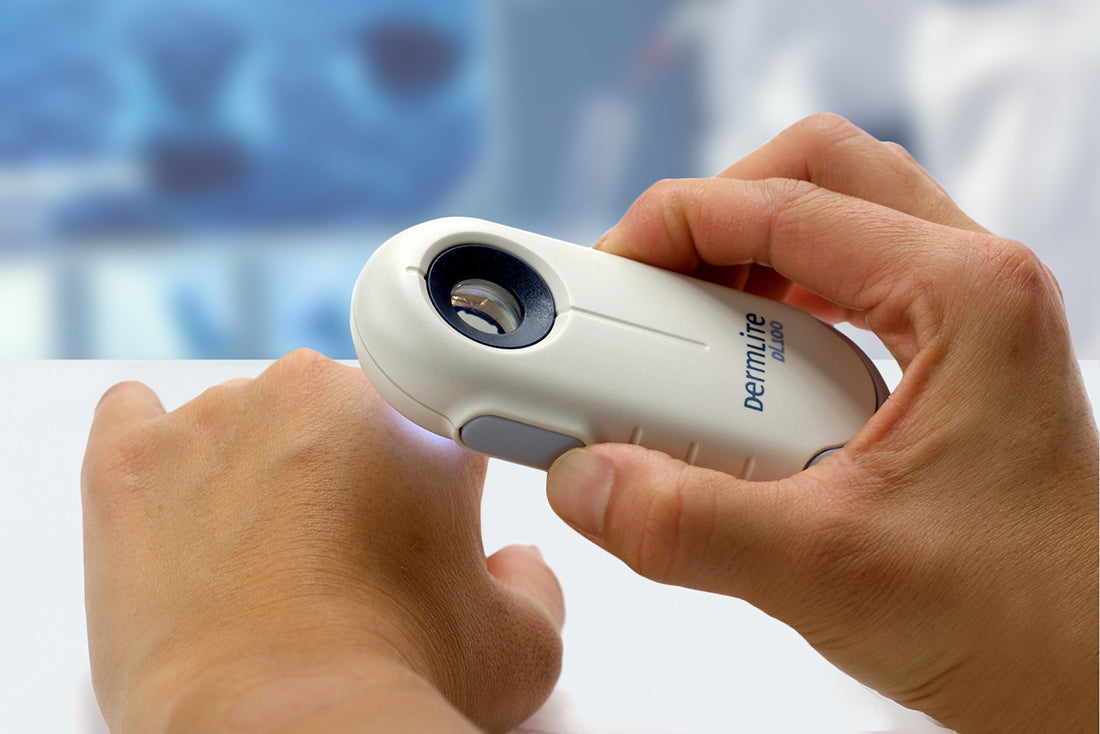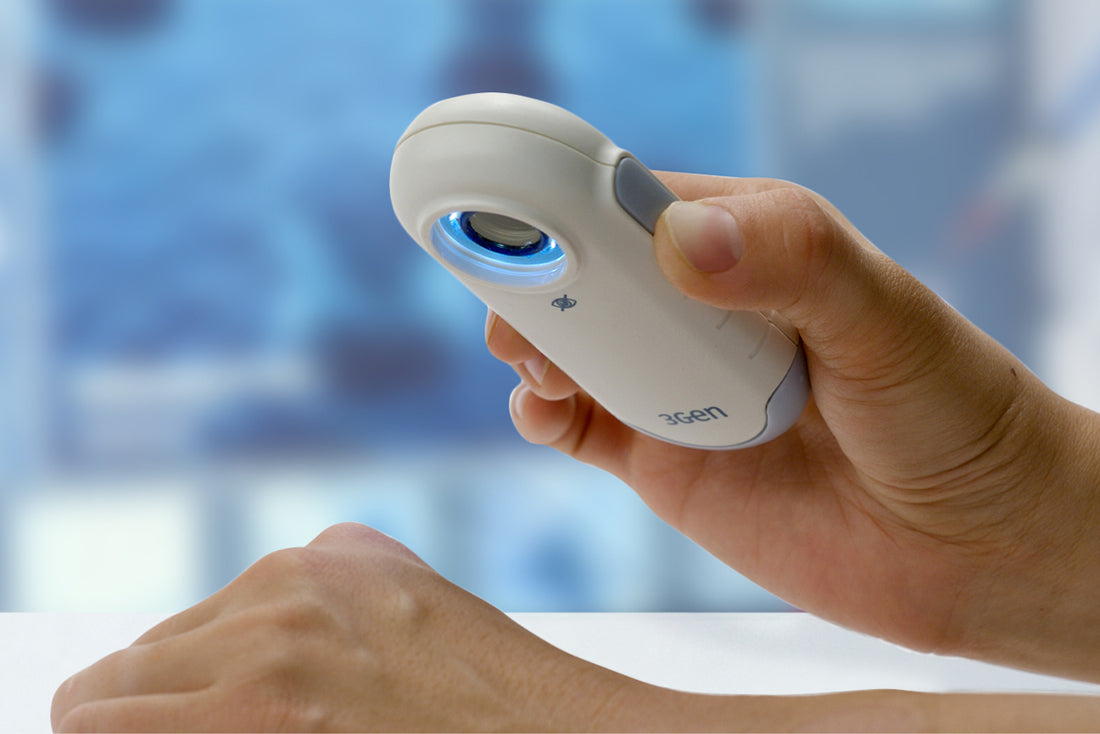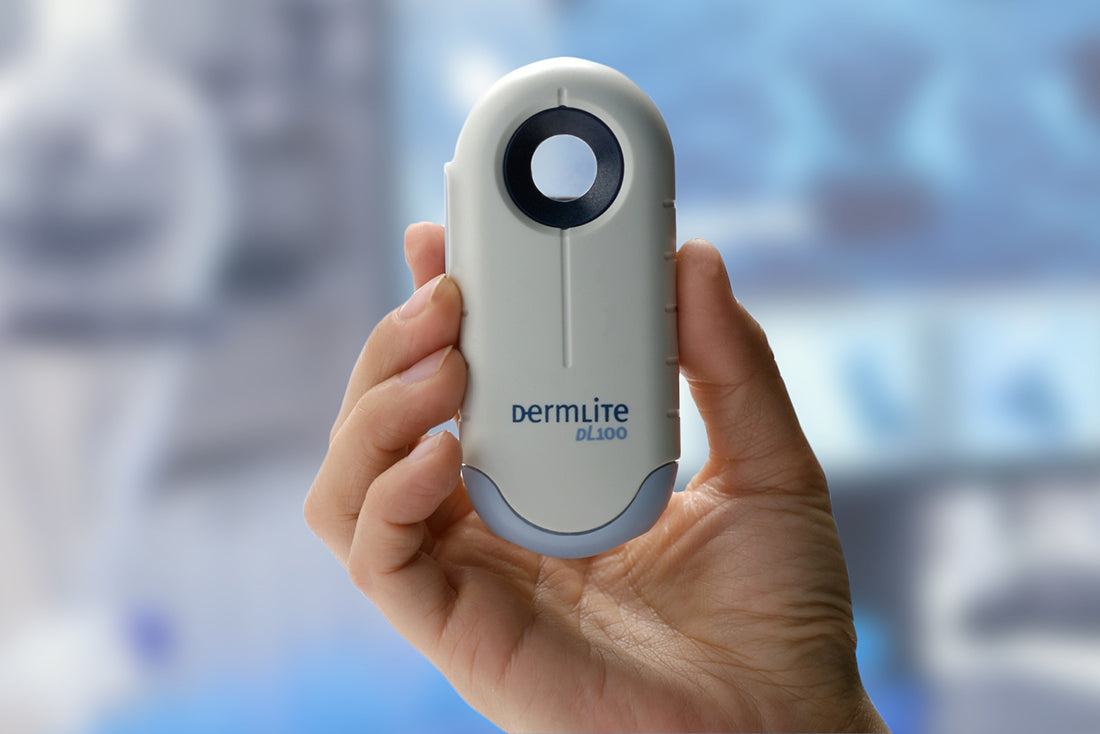 Description
The Pioneer
The DL100 holds the honor of being the first to bring "no-oil/non-contact dermoscopy" to the market. It combines advanced cross-polarization technology, LED lighting, and a 10x Hastings Triplet lens to provide accurate visualization of both pigmented and non-pigmented skin lesions.
BCCs Can't Hide
Non-contact dermoscopy avoids compressing telangiectasias, thereby decreasing the risk of overlooking basal cell carcinomas.
Versatile
As one of the most versatile tools in the dermatologist's arsenal, the DL100 can be used for viewing a variety of lesions, from pigmented lesions to skin irritations.
Lithium Power
For those who don't have time to charge their devices, the DL100 has you covered. Each battery change averages over 1200 lesion examinations (@ 30 seconds per exam).
Convenient Size & Weight
The DL100 easily fits in your hand and therefore is easy to slip in your pocket. And at under 4 ounces, it's lightweight enough to forget you're even carrying it.


Tim's DermLite DL100 Review
The DermLite DL100 could be best described as DermLite's "budget" or "entry-level" dermatoscope. And it's actually its budget-friendliness, which starts out the list of its good attributes.
How much does a DermLite DL100 cost?
At $395
, the DL100 is
the most affordable
of the quality dermatoscopes currently on the market. So if you're just
starting out and you're within a budget, trust me when I say the DL100 will do
just about
anything that you need for it to do when it comes to dermoscopy.
Even though this is a relatively inexpensive unit, the
image quality
as seen through the lens is
surprisingly sharp. Actually, here are a few examples as these were taken directly through the
DL100.
And I think this is one of the biggest misconceptions about the DL100. That is, that since it's so
inexpensive, the lens quality must suffer. But as you can see, it really doesn't. It does provide a
well-lit, sharp image, allowing you to visualize fine details within the lesions that you're
evaluating. But you may have noticed that a moment ago, I said that the DL100 will do "just
about" anything that you need for it to do.
What's not to like about the DL100?
Well, so far as the lens goes, as clear as the image is, the lens itself is quite small, being only 15
mm in diameter. Now, just for a quick comparison, the top-of-the-line DL4 has a lens which is
twice as large at 30 mm, and the Lumio S has an even larger lens at 40 mm.
Now, from a practical standpoint, for most of the lesions that you're seeing it's a non-issue. But
every now and then a particularly large lesion will come in, and with those, it's possible that you
won't be able to visualize the entire lesion within the field of view.
But the question is, is it really necessary to see the entire lesion at once within the same view? Or when a larger lesion comes in, is it instead okay to just scan through, evaluating what you can see, and then just move the dermatoscope slightly over to see the rest?
I would argue that it's really not that big of a deal to follow such a "grid search pattern." But
everyone's preferences are different.
Another downside to this smaller lens, which I would say is actually more important, is that you
do need to get
pretty close
to the lens in order to see what you need to see.
Now, while this may seem obvious, the truth is that the larger-lensed dermatoscopes (like the
DL4 or Lumio S) have such large lenses that they can afford you the luxury of not necessarily
sticking your face right up to the lens
. It sounds funny, but many of you likely know what I'm
referring to so far as how this can create an awkward situation. There are just certain times in
which it would be preferable to not have your face within millimeters of the lesion that you're
evaluating.
Also, the DL100 does have fewer LEDs
as compared to the top-of-the-line models. And the LEDs
that it does have are
polarized only
. We'll go over that in greater detail when we talk about the
Carbon, but the main significance of this is that
the DL100 is not the ideal dermatoscope if
you're trying to evaluate very superficial features
---we're talking dermatoglyphs or
lichenification, etc.
To me, and I think most to evaluate the DL100, one of the greatest issues with the DL100 is the
build quality
.
Now, I want to be as objective, but just to be honest, the DL100
feels
inexpensive. I'm not trying
to sound harsh, but it just kind of feels like "cheap plastic." But does that necessarily translate
into causing problems? Well, perhaps.
I can tell you that I have personally used the DL100 as my primary dermatoscope for years. And
for me, and I guarantee just about everyone who has used one in the clinic, ask us the one thing
that we don't like about it. For many of us, it's the fact that if you drop the DL100 on the floor,
this ring, as well as this polarized filter tend to pop out.
And here's the deal;
if you're a heavy user of your dermatoscope (as many of us are), it's not
that uncommon to drop your dermatoscope and have it hit the floor
. Even if you only drop it
"every few hundred patients" that you see, you can imagine, that adds up over the course of
the year. And if/when you drop it, it falls into pieces and you need to quickly reassemble it
before seeing the next patient, that can be a little frustrating. Do it enough times, and these
pieces can break. Yes, you can order replacement pieces if needed, but still.
So, if "overall sturdiness" is near the top of your list of important characteristics you're looking
for in a dermatoscope, just know that the DL100 may not be for you.
And finally, another feature which some consider to be a downside of the DL100 is that it's
battery operated. It uses a "2CR5" camera battery, which you can order online or even pick up
at the photo department within Walmart.
For me personally, when I used the DL100, I kind of liked the fact that it was battery operated,
because if and when the battery runs out, as long as you have an extra battery available, you
just pop it in and you're ready to go (versus needing to charge the unit and wait).
And in my experience, even with heavy use, the battery lasts for months. But of course, this
means that you need to buy a new battery each time. They average a little under $10 each,
which isn't too bad. But when you count up how many times you'll need to buy a new battery
over the lifetime of the dermatoscope, it's just something to consider when taking into account
the overall cost of ownership.
So who should purchase the DL100?
With all of the factors mentioned, someone who 1) is on a budget, and 2) doesn't mind some of the trade-offs in lens size and build quality in exchange for the low price. But even if neither condition applies, then 3) someone who's looking for a good backup dermatoscope.

This is actually pretty important. We routinely receive emails from clinicians who are experiencing issues with their current dermatoscope, and they're contacting us to either inquire about service or to purchase a new one. But regardless of whether their current unit is sent in for service, or they decide to purchase a new one, either option can leave them without a dermatoscope for at least a week or two. And again, if you're like me, you've come to depend on your dermatoscope for doing exams all throughout the day, and not having one can really put you in a bind.

So even if the DL100 doesn't represent your "ideal" dermatoscope, you may want to consider buying one to simply keep in the clinic to use as a backup when needed.