FAQs
Who should I contact if I have question?

To get in contact with us you can email us at contact@dermatoscopes.com or use our online contact form.
How can I cancel or change my order?

Orders may be cancelled (or changed) at any point prior to shipping. To do so, please email us at contact@dermatoscopes.com. 
How can I return a product?

Broken or defective merchandise should be reported to us immediately upon receipt and returned for replacement or credit within 30 days of shipment.

Before returning any items, please first contact us (contact@dermatoscopes.com) to describe any such issues.

For all other returns, a full refund will be made for items returned within 30 days of shipment that are in resalable condition*. This includes providing the original packaging, instructions and any other contents of the product as it arrived upon initial purchase.

As stated above, please first contact us to arrange any return prior to shipping the item(s) back. 

Proper packaging of returned items must be used to prevent damage during shipment. We also recommend that you insure the package. Shipping charges to return merchandise to dermatoscopes.com are the buyer's responsibility (except in the case of defective merchandise received).

With the above policy in mind, just know that we want you to be 100% satisfied with your purchase and we will do our best to accomodate any reasonable return requests.

However, due to the nature of what we sell (dermatoscopes and accessories) and our relationship with the manufacturer (we are a Dermlite distributor), we recognize that every situation is unique. So above all, please first contact us if you're ever concerned about your purchase and feel the need to either return/exchange your purchase.

contact@dermatoscopes.com
How long will it take to get my package?

Most items are shipped directly from our store location within 1 business day. Items which are shipped directly from Dermlite headquarters (in California) are typically processed within 3 business days, after which they are shipped via FedEx.
Dermlite Dermatoscopes
From the "pocket-friendly" DL1 to the most advanced DL5, we'll help you find the dermatoscope which is right for you!
View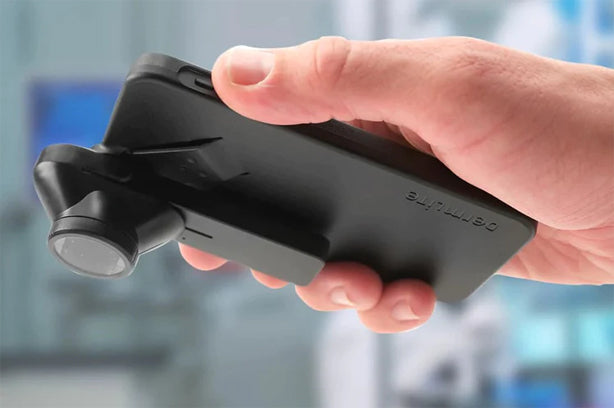 Photo Dermoscopy Devices
Whether simply adding photos to the patient medical records or building your own personal learning library, we can help you connect your dermatoscope to your favorite camera or smartphone!
View