Free Shipping*

Free shipping: included on all orders within the mainland United States. Shipments to states and territories outside the "lower 48" generally also receive free shipping (though subject to change depending on order details).

Delivery: Most packages ship through either USPS or FedEx, typically within 1-2 business days. Occasional delays may occur. Once shipped, packages typically arrive within 3-5 business days (US only). We do send out tracking emails so please be sure to keep an eye on your inbox.
Share
View full details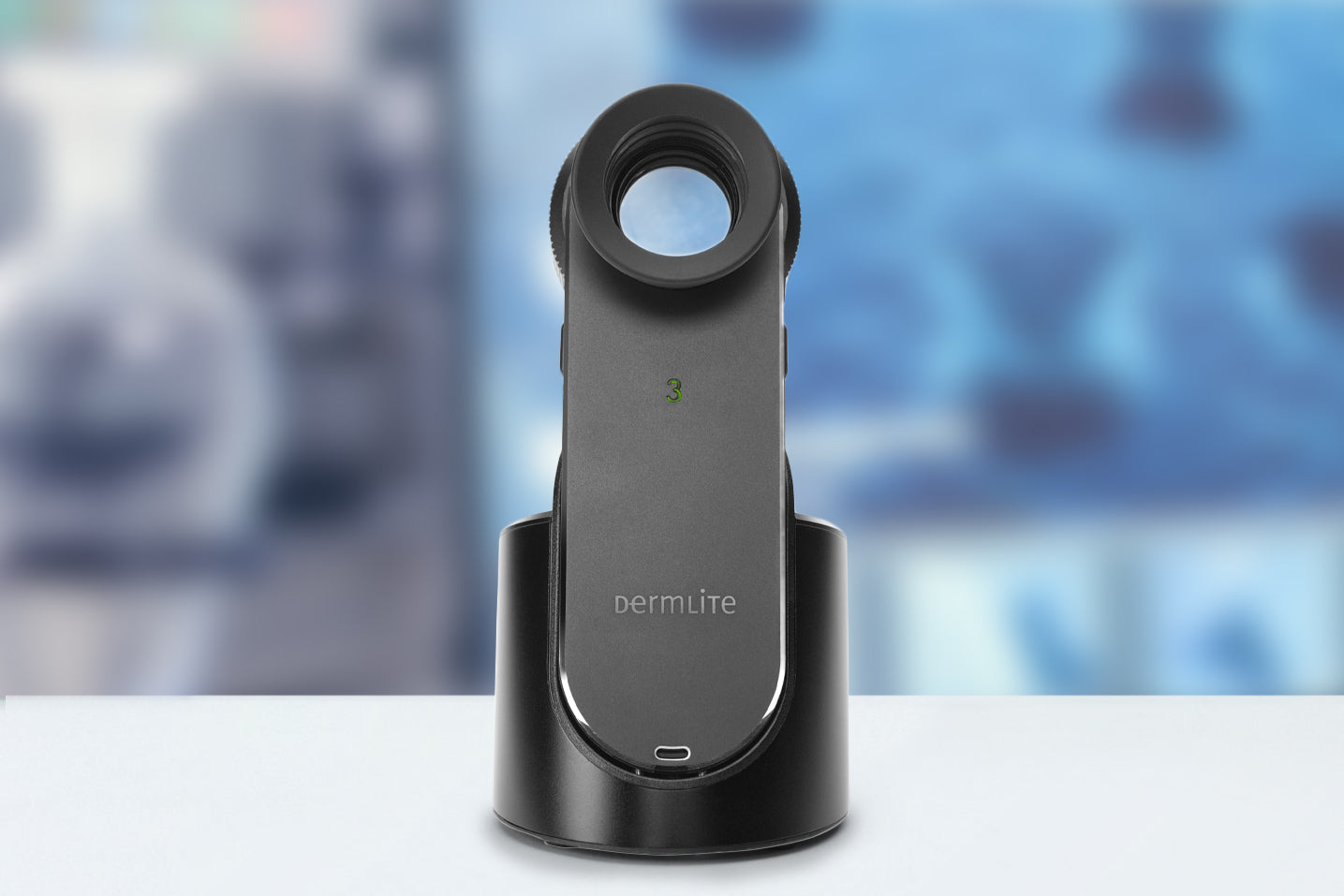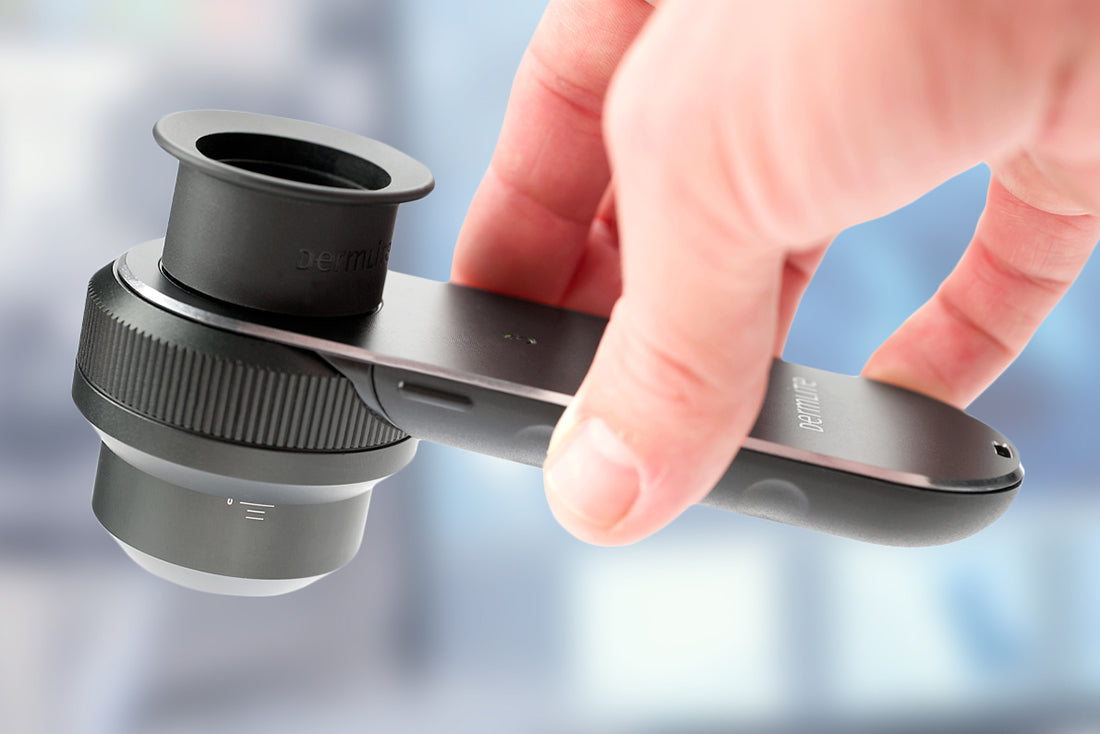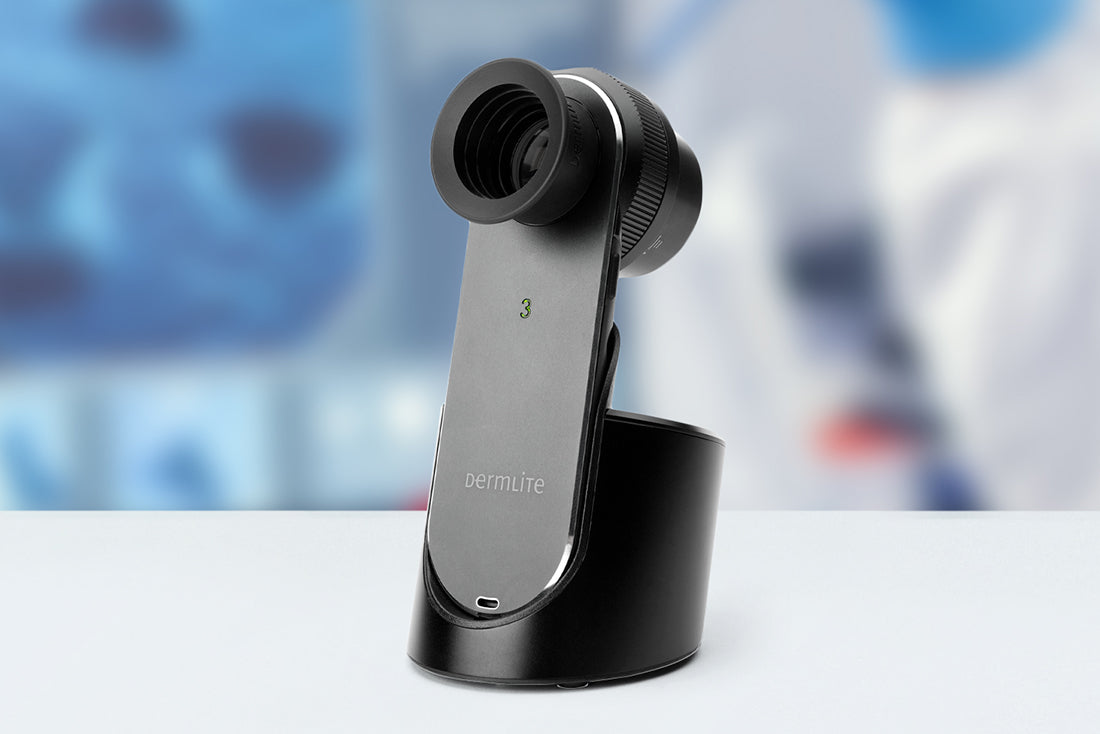 Description
Introducing the DermLite DL3N. This dermatoscope is made with more capabilities than ever with its enhanced optics and improved visualization of both vascular and pigmented structures. This device is the top choice for the world's leading dermatologists.
The convenient DermLite DL3N retractable faceplate spacer design and focusing mechanism enables you to quickly switch between non-contact and skin contact modalities and lets you precisely focus your image while in skin contact. The spacer comes with a glass faceplate with 10 mm markings and, due to its fully enclosed design, contaminants as well as undesirable ambient lighting no longer affect your image. To reduce reflections and greatly improve the contrast of the image, an optional eyepiece is included.
With the new DermLite DL3N, it's easy to create your very own digital dermoscopy system by attaching one of many compatible cameras or camera-equipped mobile devices. Simply attach your digital camera, smartphone or iPad, extend the spacer, and start taking sharp, glare-free images quickly and easily.
This state-of-the-art device will let you know when it's time to recharge its long-lasting lithium battery: Once the charge level drops below 25%, the "3" on the top of device changes from green to orange.
The new DermLite DL3N packs the unique advantages of both polarized and non-polarized dermoscopy with or without immersion fluids, improved vascular imaging, color temperature selection with PigmentBoost, great optics, solid durability, refined ergonomics and amazing versatility into a beautifully elegant design.
Features:
Crafted from Recyclable Aluminum
25 mm four-element lens
28 high-powered LEDs
All-new PigmentBoost illumination
Retractable Faceplate Spacer Design
To Use:
Quick tap on its power button and device will toggle between polarization modes while the optional PigmentBoost mode produces a warmer illumination reminiscent of conventional dermatoscopes.
Tim's DermLite DL3N Review
When people ask me about the DL3, I have what I admit is a unique way of describing it. I tend to say it's the "Rolls Royce" of dermatoscopes. That must mean it's the best, right?
To some, yes, but there are plenty of people who would find a Rolls Royce to be too nice, too large and too impractical for everyday use.
Let's talk about what I mean, starting with the good.
First, and above all, the DL3 just exudes quality. It just feels like a finely-crafted instrument, I would argue more than any other dermatoscope out there.
It features a beautiful 25 mm lens. It also has an extendable faceplate which allows you to perform contact dermoscopy with oil, or (without extending the faceplate) non-contact dermoscopy without oil.
But even more unique is the lighting. Not only is the amount of lighting impressive, with a total of 28 LEDs built in, but the DL3 (as well as the DL4 which we'll talk about just a moment) both feature Dermlite's PigmentBoost® technology.
What the PigmentBoost® technology offers is the addition of orange lighting, which provides a warmer illumination as compared to traditional "all-white" LEDs. Here are some images for comparison.
What might there be not to like about the DL3?
First, it is a bit expensive. Although it's not the most expensive dermatoscope in the Dermlite lineup, it's still up there at $1295.
But even more direct to the "Rolls Royce comparison," just as a Rolls Royce is extremely well-built and luxurious, many drivers would find them to be too large and heavy for everyday use. In other words, a Rolls Royce is the kind of car that you use when you're going out to a nice dinner or another formal event. But to just run out to the grocery store? Not so much.
And the DL3, as strange as this comparison sounds, to me just kind of gives off that same vibe. It's a finely-engineered instrument that just "feels" like it needs to be treated carefully, and with respect, rather than just pulled out and used on every patient.
Also like a Rolls Royce, it's heavy. Now, I should clarify---it's actually about the same weight as the Lumio S and the DL200. However, the DL3 just "feels" heavier, and I think part of the reason is because it's not as "balanced." Whereas the DL200 and the Lumio distribute their weight fairly evenly across the device, the DL3 is disproportionately heavy on the "lens side" as seen here:
But is this "heavier-on-one-side" characteristic really significant? Probably not for many people. But…if you prefer a balanced feel in your hand, just know that the DL3 may not be for you.
What else?
Well, again this is subjective, but I personally don't find it to be the most "pocket-friendly." In other words, its size, shape, and weight doesn't lend itself very well to just "throwing it" into your pants pocket or lab coat. It does come with a belt pouch, which is great, and which personally I would use if this were to be my "everyday" dermatoscope. But I'm a guy and I wear belts. But if you don't routinely wear belts, it's just something that you need to keep in mind.
Also, another important feature worth mentioning is that it requires its own proprietary charging base. Don't get me wrong---some people really like this, as it's elegant and well-built.
But again, making the comparison to a Rolls Royce or really any luxury car if you've ever owned one…generally, you can't just take them down the street to the mechanic. They have to be serviced in their own unique service center.
Now, I know these comparisons sound strange, but that's also how I feel the DL3 is with its charging base. It can only be charged in its own particular base.
Personally, I like the versatility that comes with being able to simply plug in your typical USB cable that you probably have already laying around for your phone or other devices. The concern being that if anything happens, and the charging base quits working, well then you have to wait until you order it and receive a replacement.
But is that really likely to be an issue? Probably not, as we don't receive many orders for replacement bases.
Who would be a good fit for the DL3?
In my mind, there are two types of people for whom the DL3 would be ideal--
The first would be someone who, above all, wants a high-end, finely tuned, precision dermatoscope (and doesn't mind some of the trade-offs discussed).
Alternatively, the other "ideal" DL3 owner would be someone who purchases it as a second unit. That is, someone who primarily relies on a lighter, more practical dermatoscope (like the GL) for most patient exams, but then only brings out the DL3 when a particularly suspicious lesion needs to be evaluated more closely, with better lighting and magnification. To me, this would represent the ideal "best of both worlds" scenario.